User Rating Average: (see user reviews):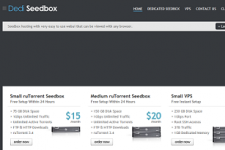 Website: www.dediseedbox.com
Storage: 100 – 300GB, 1TB dedicated
Speeds: 1Gbps
Bandwidth: Unlimited
Torrent Software: rTorrent / ruTorrent
Price: From $15 / month
Promo Code: None at the moment


Service: DediSeedBox offers smaller seedbox packages on OpenVZ VPS, or dedicated servers for more hardcore users.
Servers located in Netherlands (Leaseweb)
Torrent software is rTorrent, ruTorrent 3.5 with full root access on the VPS and dedicated servers.
ruTorrent webui, stream your videos in your browser from your seedbox, automatically download torrents via autodl IRSSI, add magnet links and connect android device with Transdroid.
Pricing / Packages:-
Seedbox – $15/ month, 100GB storage
$20/ month, 200GB storage
$25/ month, 300GB storage
VPS – $30/ month, 250GB storage, 5TB traffic
$60/ month, 500GB storage, 6TB traffic
$150/ month, 600GB storage, 7.5TB traffic
Dedicated – $45/ month, 1TB storage, 5TB traffic, Intel Pentium G850, 4GB memory
$65/ month, 1TB storage, 5TB traffic, Intel Dual Core X3050, 4GB memory
$70/ month, 1TB storage, 5TB traffic, Intel Dual Core G6950, 8GB memory
Other software features: FTP, FTPS, SSH, SolusVM Control Panel for VPS
Trackers allowed: Public and private trackers.
Payment Methods: Paypal, Visa/Mastercard via 2Checkout

Click here to see our Review Disclosure Policy.

DediSeedBox User Reviews
GD Star Rating
loading...
Please rate DediSeedBox from your own experience via the comment form below:-