User Rating Average: (see user reviews):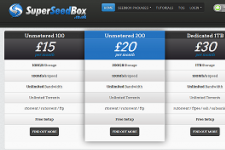 Website: www.superseedbox.co.uk
Storage: 110GB – 1TB
Speeds: 100Mb/s – 1GB/s
Bandwidth: Unlimited
Torrent Software: rtorrent / rutorrent
Price: From £13/ month
Promo Code: None at this time


Service: SuperSeedBox offers seedbox packages with different storage levels and shared or dedicated servers. rtorrent/rutorrent software with root access on the dedicated package and free setup across all package levels.
Dedicated seedboxes come with additional features including; a music and video streaming private site for you to play music or watch movies through your web browser right from your seedbox.
Pricing / Packages:-
£13/ month, shared 110GB storage
£18/ month, shared 180GB storage
£27/ month, dedicated 1TB storage
Other software features:
-Shared – FTP, VNC remote desktop, Webmin Control Panel
-Dedicated – SSH, OpenVPN, Subsonic media streamer, VNC (remote Desktop), Custom Ajax Control Panel
Trackers allowed: Private trackers only
Payment Methods: Paypal, Bitcoin

Click here to see our Review Disclosure Policy.

SuperSeedBox User Reviews
GD Star Rating
loading...
Please rate SuperSeedBox from your own experience via the comment form below:-