User Rating Average: Feral Hosting Review, 8.0 out of 10 based on 1 rating (see user reviews):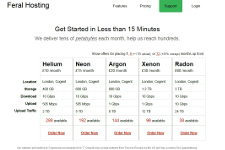 Website: www.feralhosting.com
Storage: 400GB – 3TB
Speeds: 10 Gbps download, 505 Mbps – 10 Gbps upload
Bandwidth: Unlimited
Torrent Software: rtorrent, deluge, transmission, wtorrent and rutorrent
Price: From £10/ month
Promo Code: None at this time


Service: Feral Hosting provides seedbox packages with different storage levels, speeds and shared or dedicated servers. Multiple torrent software, including rtorrent and rutorrent with plenty of bandwidth available 100% of the time and few users per disk resulting in faster speeds.
Each slot comes with its own sub-domain and you can add as many of your own as you wish. With Mysql with root access.
Pricing / Packages:-
£10/ month, shared 400GB storage, 2TB traffic
£15/ month, shared 600GB storage, 5TB traffic
£20/ month, shared 800GB storage, 8TB traffic
£30/ month, shared 1.2TB storage, 12TB traffic
£60/ month, shared 3TB storage, 24TB traffic
Other software features:
FTP, SFTP, and HTTP. SSH, SOCKS proxy and OpenVPN
Trackers allowed: Private and public trackers
Payment Methods: Visa/Mastercard, Google Wallet, Bitcoin

Click here to see our Review Disclosure Policy.

Feral Hosting User Reviews
GD Star Rating
loading...
Please rate Feral Hosting from your own experience via the comment form below:-