User Rating Average: (see user reviews):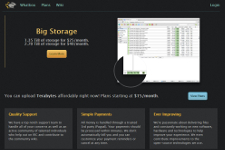 Website: www.whatbox.ca
Storage: 100 – 300GB
Speeds: 100 – 300 Mbps
Bandwidth: Unlimited
Torrent Software: rtorrent, rutorrent, Deluge, Transmission
Price: From $15/ month
Promo Code: None at this time


Service: Whatbox is a popular seedbox provider that offers several packages based on speed, storage space and monthly traffic.
Top notch support and plently of sofware options including Helm, Whatbox's web-based file manager.
Pricing / Packages:-
$15/ month, 150Mbs speed, shared 360GB storage, 2TB traffic, NL server
$15/ month, 150Mbs speed, shared 200GB storage, 1.5TB traffic, US server
$18/ month, 300Mbs speed, shared 100GB storage, 3TB traffic, multiple locations servers
$15/ month, 100Mbs speed, shared 115GB storage, Unlimited traffic, NL server
Other software features:
FTP, streaming audio and video. Helm file management
Trackers allowed: Private and public trackers
Payment Methods: Paypal

Click here to see our Review Disclosure Policy.

Whatbox User Reviews
GD Star Rating
loading...
Please rate Whatbox from your own experience via the comment form below:-