User Rating Average: SeedM8 Review, 10.0 out of 10 based on 2 ratings (see user reviews):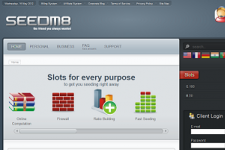 Website: www.seedm8.com
Storage: 100 – 400GB
Speeds: 100Mb/s – 1Gbps
Bandwidth: Up to 50 MBiT (avg. 250 MbiT), 1 GBiT Burst
Torrent Software: rTorrent/ruTorrent, Transmission, Deluge
Price: From $16 / month
Coupon Code: N/A


Service: SeedM8 offers seedbox packages with 1 GBiT Metered Connections or 100 MBiT Unmetered Connection. GBiT connections are limited by upload bandwidth going out of the datacenter. Unmetered Connections are not limited to the amount of bandwidth you send.
These packages should work great for anyone from the casual torrentor (<-our made up word) to the superseeding freak.
Multiple torrent software choices including rTorrent/ruTorrent, Transmission and Deluge with free set-ups.
Servers are located in France through OVH.
Pricing / Packages:-
$16/ month, 100GB storage, 10 MBiT Dedicated ATLEAST 3 TB/month
$32/ month, 200GB storage, 20 MBiT Dedicated ATLEAST 6 TB/month
$48/ month, 300GB storage, 30 MBiT Dedicated ATLEAST 9 TB/month
$64/ month, 400GB storage, 40 MBiT Dedicated ATLEAST 12 TB/month
Other software features: Rapidleech, Usenet transfer software, OpenVPN, FTP, SFTP, HTTP, SSH, TransDroid
Trackers allowed: Private torrents only.
Payment Methods: Paypal, Skrill(MoneyBookers), Visa, Mastercard

Click here to see our Review Disclosure Policy.

SeedM8 User Reviews
GD Star Rating
loading...
Please rate SeedM8 from your own experience via the comment form below:-